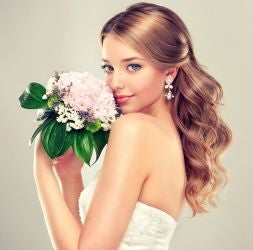 If you are about to get married, one of the things you are probably concerned about is looking your best on your big day. And one important aspect of this is having a beautiful, flattering hairstyle. You may want to match your hairstyle to the specific look you have chosen for your wedding outfit. This might be more formal or more relaxed, more ornate or simpler. When choosing a wedding hairstyle, it's also important to understand and work with your individual hair type. The first step toward selecting a wedding hairstyle near Marlton is to understand which styles would work best with your specific hair.
Curly Hair
Rather than attempting to straighten curly hair, we recommend working with its natural texture . Judicious use of a styling product can be very helpful, especially if weather conditions are likely to be humid. Ask your hairstylist to use a few well-placed bobby pins to secure your style without resorting to excessive amounts of product.
Straight Hair
If your hair is naturally straight, you can curl into big, loose curls for the ceremony. If you prefer, you can play up its natural texture with a sleek updo, such as a bun or French plait. Use a serum to add extra shine.
Fine Hair
Fine hair is best suited to very simple styles, such as a classic updo. You can add volume with hair accessories like twists, loops, and hairpieces. A little hair gel or putty can add volume. It's easiest to style fine hair when it's not completely clean. Wash your hair the day before the wedding, instead of on the day itself.
Thick Hair
Thick hair looks wonderful in an updo, especially with added braids. Since thick hair can be more time-consuming to style, allow extra time in your schedule if you would prefer to wear your hair down. This will allow the hairdresser to first straighten and then curl it, for extra control over the results.
You can create a beautiful updo in Marlton for your wedding. Watch this video to find out how. The video explains that, for the best results, you should divide the hair into as few and as large sections as possible. The presenter demonstrates how to curl sections of hair using a curling iron and then pin them back against the head while you work on the rest of the hairstyle. She shows how to use backcombing to create height at the crown.
The video reminds us to check the hairstyle as we go along, to make sure it is balanced and symmetrical. It then discusses how to create height at the crown. The video recommends curling hair close to the root, for better texture and more volume. The video demonstrates how to pin the hair in order to create a beautiful mass of curls at the back of the head. Finally, the video recommends a curly hairstyle for your wedding if you have naturally curly hair. It will make you feel like a more beautiful version of your everyday self.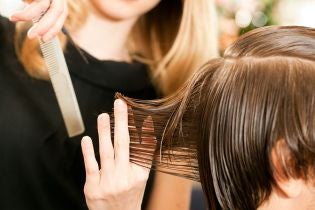 Many people find it difficult to communicate clearly with their hair stylist. If you fail to describe your wishes clearly, you could end up with a hairstyle you were not expecting or did not want. It's vital to learn how to tell your hairdresser exactly how you would like your hair to look. Here are a few tips for you if you are about to visit a hair salon in Marlton . By using the right terminology, you can ensure that your hairstylist understands exactly what you would like them to do with your hair.
Bend or Sleek
If you would like your hair to fall smoothly but not be completely straight, ask your hairstylist to give you a " blowout with bend ." This will provide body without sacrificing sleekness. This technique works best with hair that is shoulder length or longer. If, on the other hand, you would like completely straight, glossy hair, request a "straight and sleek" cut. Ask the stylist to crop your hair to chin length or longer. Apply a little serum afterward to add gloss.
Polished or Undone
If you would like to achieve a look that involves perfectly formed curls, ask your hairstylist for a "polished" look. This will work well with hair of any length, except very short. For a more relaxed, carefree style with looser, messier curls, request an "undone ponytail." This works well with many different cuts, provided your hair is long enough to tie back. The look is easiest to achieve with hair which was not freshly washed that day.
Piecey
If you are aiming for an edgier look, with shape and definition, try requesting a "piecey" style. This will work well with many different lengths of hair, but looks most striking on short hair cut into layers.
Always discuss your preferred style carefully with your hairstylist before they begin to cut your hair. Using the right terminology can help ensure that you both understand the exact look you are aiming for. Your hairstylist can then give you some advice on how to style and care for the cut of your choice.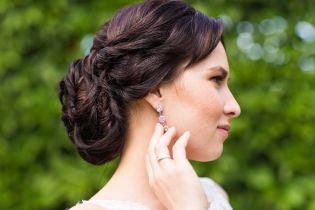 No wedding hairstyle near Marlton is complete without the perfect wedding makeup. Whether you use a professional makeup artist or plan on applying makeup yourself, the right makeup can highlight wedding hairstyles from updos to short haircuts. There are a few tips to keep in mind for the best wedding makeup style.
Just as you would do a trial run for your hairstyle, you should do a trial run of your wedding makeup. To avoid any adverse skin reactions, do not use anything on your wedding day that you have not previously worn. Wedding makeup should be natural and use a neutral color palette. Wear waterproof mascara to prevent any tears of joy turning into black circles underneath your eyes. Wear sunscreen or foundation with SPF, especially if your wedding is outdoors or if there are outdoor photographs. Pick a shade of lipstick that complements your skin tone, and have it handy throughout the day and night for any needed touch-ups.
Are you looking for a quick and easy way to change up your hair near Marlton ? If you want to make a change without doing anything too dramatic, getting bangs may be the solution for you. When getting bangs, it is important to get bangs that are right for your face or you may not be happy with the results.
In this video, you'll learn about the different styles of bangs and which face shape they look best with. If you have a round face, heavy, angled bangs will highlight your cheekbones. For oval faces, V-shaped bangs compliment your look. No matter what face shape you have, there is a style of bangs that is right for you.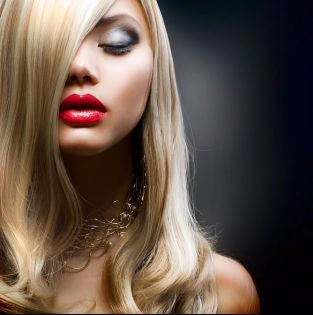 If you are looking to add volume and length to your hair, hair extensions in Marlton may be right for you. Hair extensions offer longer, more voluminous hair in just a visit to the salon. There are a variety of different types of hair extensions, so it can be difficult to decide which type is best for you. This article will highlight some of the most popular types of hair extensions and how each one may suit your needs.
Bonded Hair Extensions
Fusion or bonded hair extensions, such as Great Lengths and Hairdreams, are fused to your natural hair using heat. The strands have a bonding agent, such as glue, at the tip of each strand. Once heated, the strand is applied to your natural hair and attached together by applying pressure. Since these types of extensions are individually added, they can be used to create a fully customizable look. Whether you are looking to add a bit more volume or a complete hair make-over, bonded hair extensions offer a great deal of flexibility. Since these extensions are attached to your natural hair, if your hair is thin, damaged, or breaks easily, they may not be right for you.
Tape-In Extensions
Tape-in, or weft adhesive extensions, such as Hotheads, are strips of hair attached to your natural hair with the use of adhesive without heat. Rather than individual bonded extensions, weft extensions are a long strip of hair that is sandwiched in between layers of hair. These extensions are quickest to apply and can also be re-used. If your hair is thicker, the adhesive may not be able to stick as well.
Weave or Sew-in Extensions
With sew-in or weave extensions, thread is used to weave the extensions into your natural hair. These extensions are applied to your hair by braiding natural hair and then weaving in extensions onto the braids. These extensions take more time to apply, but stay in place once sewn in.
Unlike hairstyles for any other event, finding wedding hairstyles near Marlton comes with additional factors to consider. Ultimately, you will want to feel like a beautiful bride, and the hairstyle you pick can play a major role. Take a look at these dos and don'ts for choosing an appropriate wedding hairstyle.
Pick a Style You Like
The most important thing to do is to pick a style you like. Your bridal hairstyle should be a style that makes you feel pretty and comfortable. If you have never been a fan of teased hair or hair extensions, your wedding day is probably not the time to start experimenting. You may have family members and bridesmaids offering their opinion on what hairstyle to go with, but you should pick something you want and will be happy with.
Steer Clear of Overly Trendy Styles
Be wary of an excessively trendy hairstyle. While it may be in vogue at the time of your wedding, you may regret it when looking back at your wedding photos. A classic up-do or flowing curls are styles that will never go out of fashion and will photograph great. Current trends of braids along the hairline will not photograph as well and may not always be in style.
Consider the Setting
Do consider the weather and other factors that might impact your hairstyle on the day of your wedding. If you are getting married in the summer or in a place that is humid and hot, wearing your hair down may cause a hair disaster. Humidity and heat are not conducive to keeping hair straight or holding luxurious curls.
Schedule a Run Through
Absolutely schedule a hair trial with your stylist before the wedding. If you have a style in mind that looks great in a magazine, definitely have a trial appointment. If it turns out that you don't like it as much as you had pictured, you and your stylist can work together to find what is right for you.
Add Accessories
Don't be afraid to add hair accessories to your wedding hairstyle. Accents such as a headband or clip can add a nice finishing touch.
If your hair appears dry and damaged from excessive styling, dying, or the use of harsh hair products, you should find a hair salon that offers keratin treatments near Marlton. Keratin treatments repair even the most intense damage to hair, leaving it soft, sleek, shiny, and smooth. In addition to regular keratin treatments, you can also modify your diet to give your hair an added health boost.
Watch this video for some great nutrition tips for healthy hair. A health and wellness expert discusses which foods you can eat to keep your hair looking and feeling thick, luxurious, and healthy.

If you're planning on wearing a wedding veil on your big day, a stylist at a hair salon near you can help you find the perfect wedding hairstyle in Marlton. Your veil doesn't have to hide a gorgeous updo or cute bob haircut. Here are some great wedding hairstyle ideas for brides who plan on wearing wedding veils.
Chic, Elegant Updos
Many brides prefer an updo if they plan on wearing a veil. The weight and texture of a veil may feel too heavy when combined with a long or medium hairstyle. Brides may also worry that a veil will get tangled in their hairstyle, or that the veil will mess up their hair if they wear it down. Your hairdresser can style your hair into a chic, elegant updo, like a chignon, a sleek bun, or a soft, braided crown or wreath. Your wedding hairstyle can complement the style of your dress and veil, and your wedding theme, such as romantic, vintage, modern, or classic.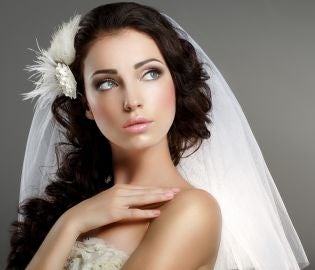 Wedding Hairstyles for Short Haircuts
A short haircut can still easily be transformed into an exciting wedding hairstyle. Ask your stylist create loose, natural finger waves for a romantic, vintage look. Your stylist can also create a sleek, sophisticated bob haircut, which will look amazing under a shorter wedding veil. Short haircuts and bob haircuts also look cute under cropped, birdcage-style veils that only cover half of the face. You can also ask your hairdresser to roll your hair up in small, loose sections to create spirals. When the spirals are pinned into place with bobby pins, you'll have beautiful pin curls for your wedding hairstyle.
Hair Extensions for Luxurious, Flowing Locks
Another option for short haircuts is to get hair extensions at a hair salon near you. Hair extensions look natural and luxurious, and give you the chance to experiment with long, flowing wedding hairstyles. Ask your hairdresser to give you loose, romantic curls, or a long, sleek braid down your back, or wear your hair in a half-up, half-down hairstyle.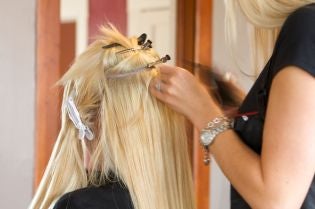 Hair extensions allow you to transform a short haircut into a long, beautiful hairstyle during a quick and easy visit to a hair salon near you in Marlton. Hair salons typically offer a variety of different hair extensions, and your hairdresser can help you choose the best hair extension material and application process for your needs and lifestyle.
Bonded hair extensions are attached to your natural hair via small keratin bonds that are at the tip of each hair extension. The bonds are safely fused to your hair using a heated hairstyling tool. Many women prefer bonded hair extensions because they are comfortable, don't pull at the roots, and allow you to achieve incredibly natural-looking medium hairstyles and long hairstyles.
Bonded hair extensions can last as long as four to five months with proper care and maintenance. Be careful not to expose the keratin bonds to oils, conditioners, or heated hairstyling tools. When blow drying your hair, dry it from mid-length down first. Then flip your hair forward to dry the underside of your natural hair. Never use the hairdryer on your keratin bonds.