With the summer wedding season just around the corner, now is a great time to choose a wedding hairstyle for your big day. Whether you choose hair extensions or updos that work perfectly with medium hairstyles, the sky is the limit when it comes to your wedding hairstyle options. A salon specializing in hair near Marlton can provide you with a professional consultation for your wedding day style. From short hair cuts to medium hairstyles, there are many wedding styles that will match your personal taste. Here is a closer look at some handy tips for choosing a wedding hairstyle.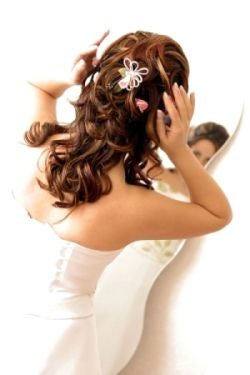 Consider Your Gown
When you are choosing a hairstyle for your big day , it is highly important to consider the cut and style of your wedding gown. The style of your gown will provide you with important cues on the best hair style for your wedding. For example, a traditional, romantic gown may pair well with a flowing, curly updo. Contemporary wedding dress designs may look great when matched with short, chic styles.
Choose Appropriate Accessories
As you are working with your hair stylist to create a wedding hairstyle, it is important to also consider hair accessories. For example, you can create an updo using glamorous pins or combs that are embellished with jewels or flowers. Additionally, you may want to accompany your hairstyle with a headdress or veil. By working with your hair dresser to choose accessories, you can get the most out of your wedding style.
Create a Shiny Base
No matter what type of hair style you choose for your big day, it is essential to make sure that your hair is shiny, healthy, and full of life. One of the best ways to create lustrous locks is to schedule a keratin treatment a few weeks before the wedding. Keratin treatments infuse moisture and nutrients into the hair, leaving strands looking as vibrant and healthy as possible.