Whether you have a short haircut, a bob haircut, a medium hairstyle, or long hair, a top hairstylist at your local hair salon in Marlton can help you find the perfect wedding hairstyle. Everyone wants to look perfect on their big day, and as a bride, you also want your wedding party to feel stylish and beautiful as well. Continue reading to explore some gorgeous wedding hairstyles for any hair length.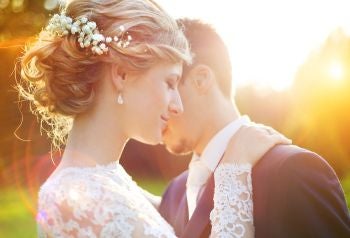 Wedding Hairstyles for Short Hair
If you have a short haircut, you may want to explore the idea of getting hair extensions at your local hair salon. This will give you a fun, new look for your big day, and it can be very flattering and glamorous. If you don't want hair extensions, consider adding some glitz and glamour to your bob haircut or pixie cut with a cute headband, a garland of flowers, a pretty comb or barrette, or a tiara.
Wedding Hairstyles for Medium Length Hair
A haircut that falls between mid-neck to shoulder-length is considered medium hairstyle. This length also lends itself well to hair extensions, if you feel like changing up your hairstyle for your wedding day. Otherwise, you can opt for a chic chignon up-do, a low ponytail, or a pretty braid. You can also ask your hairstylist at your local hair salon to experiment with different curls in your hair, like pin curls, tousled waves, or tight, spiral curls. Try accessorizing with feathers or flowers.
Wedding Hairstyles for Long Hair
Long hair presents the most options for hair salons that specialize in wedding hairstyles. You can choose from a variety of beautiful up-dos, including chignons, a crown of braids encircling your head, or a casual topknot. You can also do something simple, like a sleek ponytail, or a loose, fairytale-inspired braid. If you've always wondered what a short haircut would look like on you, but haven't wanted to take the risk, you can have your hairstylist create a faux bob haircut by pinning your hair up and back. Accessorize with jeweled barrettes or hair clips.