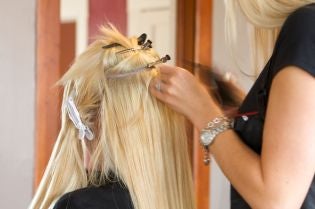 Hair extensions allow you to transform a short haircut into a long, beautiful hairstyle during a quick and easy visit to a hair salon near you in Marlton. Hair salons typically offer a variety of different hair extensions, and your hairdresser can help you choose the best hair extension material and application process for your needs and lifestyle.
Bonded hair extensions are attached to your natural hair via small keratin bonds that are at the tip of each hair extension. The bonds are safely fused to your hair using a heated hairstyling tool. Many women prefer bonded hair extensions because they are comfortable, don't pull at the roots, and allow you to achieve incredibly natural-looking medium hairstyles and long hairstyles.
Bonded hair extensions can last as long as four to five months with proper care and maintenance. Be careful not to expose the keratin bonds to oils, conditioners, or heated hairstyling tools. When blow drying your hair, dry it from mid-length down first. Then flip your hair forward to dry the underside of your natural hair. Never use the hairdryer on your keratin bonds.