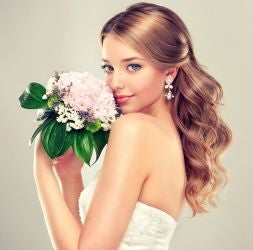 If you are about to get married, one of the things you are probably concerned about is looking your best on your big day. And one important aspect of this is having a beautiful, flattering hairstyle. You may want to match your hairstyle to the specific look you have chosen for your wedding outfit. This might be more formal or more relaxed, more ornate or simpler. When choosing a wedding hairstyle, it's also important to understand and work with your individual hair type. The first step toward selecting a wedding hairstyle near Marlton is to understand which styles would work best with your specific hair.
Curly Hair
Rather than attempting to straighten curly hair, we recommend working with its natural texture . Judicious use of a styling product can be very helpful, especially if weather conditions are likely to be humid. Ask your hairstylist to use a few well-placed bobby pins to secure your style without resorting to excessive amounts of product.
Straight Hair
If your hair is naturally straight, you can curl into big, loose curls for the ceremony. If you prefer, you can play up its natural texture with a sleek updo, such as a bun or French plait. Use a serum to add extra shine.
Fine Hair
Fine hair is best suited to very simple styles, such as a classic updo. You can add volume with hair accessories like twists, loops, and hairpieces. A little hair gel or putty can add volume. It's easiest to style fine hair when it's not completely clean. Wash your hair the day before the wedding, instead of on the day itself.
Thick Hair
Thick hair looks wonderful in an updo, especially with added braids. Since thick hair can be more time-consuming to style, allow extra time in your schedule if you would prefer to wear your hair down. This will allow the hairdresser to first straighten and then curl it, for extra control over the results.