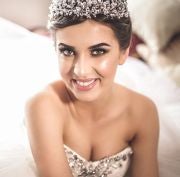 Whether you are getting married or attending a loved one's wedding, it is never too soon to start consulting with hair salons in Marlton for the perfect wedding hair. There are a wide range of style options for women with short haircuts. Whether your style is modern and edgy or classically romantic, your hair salon can offer many different wedding hairstyles. Keep reading to learn more about some favorite styles, including embellished accessories, vintage glamor, and modern edge.
Embellished Accessories
Women with short haircuts sometimes believe they can only have simple and effortless styles. While short hair has the benefit of being low maintenance, you can use pretty accessories to embellish everything from a pixie cut to a shoulder length bob. Modern wedding hairstyles incorporate many different kinds of accessories, including feathers, brooches, clips, and bows. If your wedding has a natural feel, consider tucking a large fresh or silk flower behind your ear. For a contemporary spin, use a dramatic gold or silver comb.
Vintage Glamor
Short haircuts are especially conducive to vintage glamor, including delicate pin curls. For a "Great Gatsby" inspired look, ask your hair salon to create 1920s curls. These beautiful waves may look delicate, but they hold up well in any kind of weather. Medium haircuts can also wear this look. Simply ask your hair stylist to pin your hair under to create the façade of a short haircut. Finish off the look with a rhinestone pin.
Modern Edge
If your style leans toward the contemporary, try pulling your hair back from your face in a sleek bob. For these wedding hairstyles, ask your stylist to use a small amount of mousse to boost your roots. Next, pull your hair back from your forehead and cheeks, smoothing as you go. For an especially smooth look, comb in a light spray gel. Finish off with hairspray. For extra sheen, add a few spritzes of shine spray.